AC Hydraulic A/S was established in 1958 by Mr Anker Christensen (AC). With the assistance of 5 employees the organization rapidly grew from an external machinery repair business into a factory producing workshop and truck cranes. It was not long before the news of the high quality of AC workmanship spread throughout Denmark where it became nationally known. That was the beginning of a successful export business. Due to continuously expanding trade it was necessary to find more modern and spacious production and administration facilities. In 1974 AC, therefore, moved from the original small plant into new premises in the industrial area of Viborg Denmark.

Today AC Hydraulic A/S works within 3 business areas. The division of Auto Workshop Equipment undertakes the development, production and export marketing of a wide and versatile range of hydraulic and air-hydraulic garage jacks, air-hydraulic pit jacks, jacking beams, workshop cranes, wheel trolleys, workshop presses, hydraulic auto lifts, transmission jacks, hydraulic fork-lift jacks, jack stands, and bottle jacks.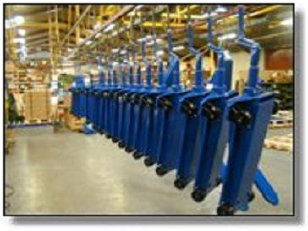 AC Hydraulic Factory
About AC Hydraulic A/S of Denmark:
We are automotive enthusiasts committed to bring you the best floor jacks on the market. We understand that tools are an investment. They should last years, not uses! We exclusively stock products manufactured by AC Hydraulic, and ship through-out the United States.
We are not associated with AC Hydraulics A/S in any way, except that we retail their products.